Many couples feel that a wedding sets the tone for their new life together. They want it to be special and memorable. The last thing you want to do is lay a foundation of debt.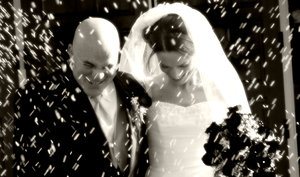 But all too often' our Woodland Hills bankruptcy attorneys have met with clients whose wedding put them over the edge in terms of their debt. In some cases' couples may owe as much for their nuptials as they do for college.
In fact' the average cost of a wedding in the U.S. is now $27'021' according to a recent report by Reuters. But that's only the mid-level' nationwide average. It gets more expensive' depending on the city. In New York' for example' the average cost is $66'000. In Chicago' it's $53'000.
Woodland Hills' Santa Barbara and Ventura' California ranked jointly at No. 6 in the country' with the average wedding cost somewhere between $37'600 and $37'800. This is despite the struggling economy. It appears one thing people are not willing to compromise on is a lavish ceremony' a stunning dress and elaborate reception.
Destination weddings can drive those figures up even higher.
It's not only a problem for couples' but also their parents' who often offer to foot all or a portion of that bill. (Though about 75 percent of couples do contribute.)
So where is all this money going?
Reuters reports that about 50 percent of the budget goes to the venue' which will run you about $200 a person. The average wedding hosts about 140 guests. Then you have the dress. The average bride' who is 29' pays about $1'100 for their dress. Wedding planners on average cost about $1'800. And this is all before you get into the cost of invitations' flowers' the rings' the food' beverages' alcohol' the cake' the music' the transportation' the photographer/videographer and' of course' the honeymoon.
It adds up very quickly.
While it's not a good idea to throw an expensive ceremony with the intention of writing it off in bankruptcy (which could actually be considered fraud)' there is no shame in filing for bankruptcy protection if you have found that the event has left you unable to cover your other basic bills.
A Chapter 13 bankruptcy plan would allow you to work out a longer-term payment plan that you can actually afford. Such a measure also forces you to work within a budget and be open about your finances' which can ultimately help you both develop good spending and saving habits as you look toward the future.
Alternatively' a joint Chapter 7 bankruptcy would allow both you and your spouse to erase most of your debts' including those you both held prior to the marriage.
If' however' you are in the process of planning your nuptials' consider the following cost-saving tips:
Avoid the high season. Most weddings occur sometime between May and October. This is when venues and professionals are going to charge more for their services because they will be in higher demand. Consider tying the knot sometime between November and April.
Consider a daytime wedding. A Sunday brunch is a lot less expensive than a Saturday evening bash.
Cut back on the cake. Some guests don't indulge anyway. If you get a cardboard cut-out for pictures' and then a sheet cake for the guests to eat' it will look good in pictures' and no one will know the difference.
Consider a pre-owned gown' which are available through a number of websites and may cost you a fraction of what you would have paid at the salon.
If you are in over your head with wedding debt' we can help.
If you are facing bankruptcy in Woodland Hills' contact Cal West Law to schedule your free consultation. Call (818) 446-1334.