In the last year' Americans racked up nearly $32 billion in overdraft fees from their bank.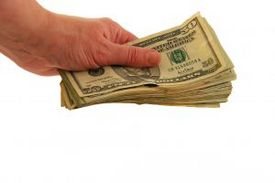 Our bankruptcy lawyers know that one $35 fee here and there is not going to drive a person to file for bankruptcy. But when you start to notice a pattern of repeatedly incurring these fees' it's a sign of a bigger problem.
Unmanageable debt has many ways of manifesting itself' and it's important to recognize the signs because many of us have trouble recognizing major problems until they've spiraled out of control.
Some other signs might be:
You don't have any savings;
You're making minimum monthly payments on your credit cards;
You have at least one credit card that is already or is about to be maxed out;
You're not sure exactly how much debt you have;
You've been turned down for additional credit;
You are sometimes late in paying your regular bills or other expenses;
You keep making purchases on your credit cards while you're trying to pay them off;
You aren't honest with friends or family about your spending;
You sometimes bounce checks – or overdraft your account.
This last one is key' because you end up accruing more debt from the creditor' as well as the bank.
The peak year for overdraft fees was in 2008' when Americans were slapped with $37 billion in overdraft fees. So we've come down a bit from that' but we're still higher than we were last year' when there were about $30 billion in such fees. According to the Consumer Financial Protection Bureau' overdraft fees are up 10 percent just in the last nine months.
Previously' the banks were hammered by the federal government for unscrupulously signing people up for overdraft fee protection when they hadn't agreed to it. Banks ended up paying hundreds of millions of dollars in restitution. Plus' the Card Act made it illegal. So now' customers do have to actually agree to be enrolled in overdraft protection.
And' there are those who say the overdraft cost' depending on where you bank' is twice what you would owe a payday lender for the same thing. The lowest overdraft fees are $8' while the highest are around $45. The median overdraft charges is in the neighborhood of $29.
But the fact is' many people are in financial trouble.
About 1 in 4 bank account users are hit with overdraft fees' according to bank researcher Moebs Services. In fact' there are about 144 million consumer checking accounts' and a quarter of them are "frequent overdraft users."
Part of this' the company stated' may be the fact that more people than ever are using debit cards. Also' sometimes checks clear at a much faster rate than in the past. People think they have money in their account' but a check they send today may actually be cleared tomorrow' which could result in an overdraft.
Such one-time oversights aren't necessarily an issue. It's those repeated overdraft charges.
If you are concerned that you may be in over your head with debt' we can help.
If you are contemplating a Chapter 7 bankruptcy in Woodland Hills' contact Cal West Law to schedule your free consultation. Call (818) 446-1334.
Additional Resources:
Americans still addicted to overdraft' Sept. 26' 2012' By Stephen Gandel' Fortune Magazine