A new survey shows that more and more college graduates are seeking bankruptcy protection due to mounds of debt and few prospects for a job after leaving the university' CNNMoney reports.
This is a tough time for college graduates throughout the country. Higher education has become more and more expensive as universities figure out a way to ride out the recession's after-effects. As the cost of education spirals upward' many people are left with massive student loans that paid for housing' books' tuition and the cost-of-living that comes with going out on their own for the first time in life.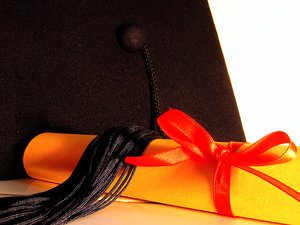 But predatory credit card companies have done a great job hunting down our impressionable college students' offering rewards programs' special deals and other perks that seem great until students realize it's those "perks" that have launched them into debt. So' they leave college with a degree' a large amount of debt and few job prospects.
In many cases' bankruptcy in Woodland Hills can be a viable option for those seeking help with debt that has left them in difficult times. For those with few other places to turn' seeking an experienced Woodland Hills Bankruptcy Lawyer who can explain the bankruptcy process and guide them through it is invaluable.
As the Woodland Hills Bankruptcy Lawyer reported in July' federal lawmakers are pushing to add student loan debt as a form of debt that can be regularly discharged in a bankruptcy proceeding.
Currently' student loans are protected except for extreme situations' as well as for people whose student loans are an "undue hardship" or if they are unable to find work and make money. While that is an obstacle' it doesn't mean bankruptcy can't help. If other debts are eliminated' solely having to pay off college loans can be a way for college grads to get out of debt.
Generally' a person must wait eight years between filing for Chapter 7 Bankruptcy in Woodland Hills — the most commonly filed form of bankruptcy — and filing again in order to qualify for a discharge of debt.
So' it may be prudent to watch this new effort by lawmakers to allow student loans to be considered for discharge in a bankruptcy proceeding. Eight years is a long time to wait between getting bankruptcy protection' so it's just another thing to discuss with an experienced L.A. Bankruptcy Lawyer.
According to the CNNMoney report' the rate of college graduates filing for bankruptcy protection has increased 20 percent' the finding of a new study that involved more than 50'000 respondents.
While most people — 70 percent — who file for bankruptcy have no college degree' the study surprisingly found that graduates are filing for bankruptcy at a high rate. While it's not surprising that bankruptcy rates increased since 2006' those who make more than $60'000 have increased 4.5 percent in the last four years.
That shows that even higher-income families are using bankruptcy protection to their advantage. While many would rather grit their teeth and continue making minimum payments in the hopes that the economy turns in their favor' some would rather take charge and use these laws to their advantage.
With the guidance of an experienced lawyer' a consumer who has massive debt and few job prospects or are underwater in payments compared to his or her personal debt can gain financial freedom by using bankruptcy laws to get back on track.
Woodland Hills Bankruptcy Attorneys will provide a free consultation to help guide you in making a decision that works for you. In Encino' Glendale' and Woodland Hills' just call (818) 446-1334